Two up and coming entrepreneurs have gone back in time to help improve the future for health and wellness.
And the future has arrived, thanks to their ground-breaking technology that is 'glowing' with success.
Meet Kala, red-light technology that utilizes the power of specially engineered wavelengths to heal your body and optimize your health.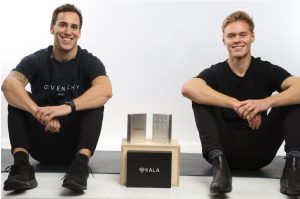 The company's co-founders are Landon Schiller (right in image above) and Cameron Stajer (left in image above), both innovative and ambitious business gurus who hail from Toronto. The entrepreneurial business duo, who pretty much bootstrapped the launch of Kala on their own, have enjoyed successful hockey careers. Schiller went to Ryerson University and played professional hockey in the Ontario Hockey League (OHL). Cameron Stajer went to the University of Western Ontario and played hockey in the Ontario Junior Hockey League (OJHL).
The concept of this tech dates back centuries and is by no means a fad or myth. Leading researchers have conducted thousands of peer-reviewed studies and trials on all kinds of light therapy, which is now a legitimate and widely used health intervention that boosts your looks and helps improve your body's performance. Even NASA has harnessed the powers of light therapy in the 80s and 90s for space missions that we are now witnessing.
The consensus on this technology is clear: red-light treatments are safe, effective and have a long list of potential uses. As we all know, light is key to our health and cellular function, just like sleep, water, and nutrients for food. Since the body is designed to function with lots of natural sunlight, the sad fact is that most people don't get enough sunlight, with over 90 per cent spending their time indoors, especially during a global pandemic.
Kala is ideal for people from all walks of life and ages. Even players in the NHL are using this technology.
"It sounds like new technology, but it's actually been around since the 1700s," says Stajer. "So, there are over 5,000 clinical studies on the effects of red-light therapy, and there's a mountain of evidence of its benefits for our skin, sleep optimization, and athletic performance and recovery. We have grandmothers and NHL players – and everyone in between – using our devices who all say it's super innovative and really cool. We are pretty much doing what no one else is on the market, even those who are already in the red-light technology space. Kala is helping people and they are seeing a positive difference in their looks and performance."
Kala Therapy offers a full fleet of devices from portable handheld to full-sized devices. The Kala Red Light Mini (Canada's #1 Portable Red-Light Device) for $299.99; Kala Red-Light Pro for $649; Kala Red-Light Elite for $1,249.99; and Kala Red Light Quad for $4,899.
Kala just launched across Canada and will soon launch in the USA.
People using the technology enjoy it in a huge way as it helps promote healthy skin, optimizes sleep, improves cognitive performance, reduces inflammation, enhances athletic performance and muscle recovery, boosts energy levels, and increases libido. But wait, the benefits get better: the technology also stimulates hair growth and helps combat depression and anxiety.
"It's funny because there are like hundreds of clinical studies on red-light therapy and yet it is new to everyone because no one really knows about it," says Schiller. "People now are learning about this technology as we promote it and it's an exciting space to be in because it's cutting-edge on every level and we are so excited to be frontrunners in technology that is going to help change lives in so many ways."
Red-light therapy is considered safe and has a solid history of enhancing metabolic processes, improving repairs and healing. In fact, it is now GRAS (Generally Regarded As Safe) by authorities for being identified as benign and safe.
Schiller and Stajer are both now living their dream as entrepreneurs, but they know struggles are real in the business world. However, their devices will be their 'light' to success, and so will their determination.
"Nothing is easy, and it took us a lot of hard work to get Kala launched on the market and we have lots of hard work ahead in promoting our devices to the masses," says Stajer. "We are offering technology that we truly believe in and with over 1,000 happy customers we see that we are truly changing lives."
Schiller echoes his view. "Launching a start-up is a 24/7 job and so is running it, but we love what we do. What's really important to us is that we are not only running a business, but we are also helping people enjoy better lives."
Are you looking to amp up your health and well-being? Then order a Kala red-light device today online and enjoy its benefits.